This weekend I had the opportunity to go to a conference given by Christian writer and speaker, Beth Moore. Robin was going to go but was unable to, so I got to attend in her place, meaning I didn't even have to pay to go! I didn't really know much about Beth Moore going into it, except that all the women at church were crazy about her and her bible studies. I have to say that they had good reason! Not only was she a
fantastic
speaker, but so accessible, knowledgeable, passionate, humble, and even goofy! I enjoyed myself so much. I even got to know a couple women from church that I roomed with and were such a blast to hang out with. We had a great time.
The conference was held at Southeast Christian Church in Louisville, Kentucky (sort of the outskirts... much farther away from downtown Louisville than where we lived)... it was the biggest church I have EVER seen... in fact, the sanctuary/auditorium may have been the biggest room I've ever been in. There were two balconies with escalators up to them. The room seated 9,000 and it was full. I believe there were 8,900 people there, almost all women. In addition, the conference was being simulcast to 715 locations, bringing the total number of people watching to 70,000. WOW.
This is a picture I found online of the auditorium... that black part in the upper left-hand corner is the upper balcony. I took a picture on my phone and got it onto the computer, but for some reason it doesn't want to upload at the moment.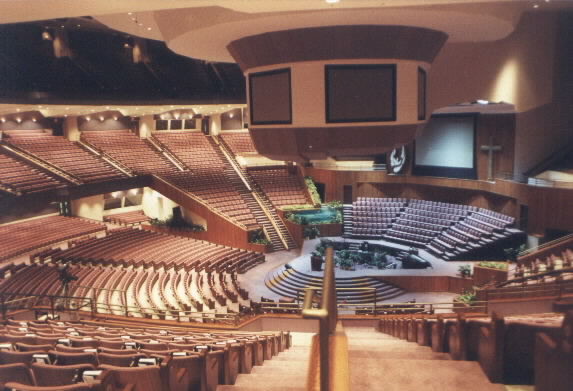 Beth used the parable of the sower (in Luke 8) for the conference. I don't know about you, but I've heard this scripture preached on a lot. But she really brought new light and a different angle on this familiar story. The point of the conference was: To increase our confidence and competence in the word of God, to be a woman of spiritual means, and to learn how to let scripture have maximum impact, producing a "100-fold harvest" in our spiritual lives.
Here are her guidelines on how to read scripture for a 100-fold harvest (based on the parable):
1.
Treasure the wonder
2. Protect your heart
3. Expect the test
4. Dig the roots
5. Stop the choke
6. Retain the word
7. Press forth to your 100-fold
Through study of God's word, He won't just make me able to fulfill His purpose for me, but He will make me "competently competent!" This comes from the phrase "thoroughly equipped" used in scripture. Thoroughly and equipped apparently have the same Greek root word, so it's just like emphasizing the point... God is going to make us READY to do His will when we read His word... competently competent! Not only will we grow spiritually by studying scripture... that spiritual seed could grow and produce 100 times as much as it started with... we could grow spiritually 100 times over if only we persevere.
I know this probably isn't making a lot of sense. I'm trying hard to wrap my mind around the concept I'm talking about and all that I learned at the conference. It's hard! I'm thinking about writing a separate journal about each of the seven points listed above. That might help both you and me understand what Beth was trying to teach us! It's good stuff.
**To view my posts on each of the seven guidelines, please click the links on the list above**